Third International Conference of the World Observatory on Subnational Government Finance and Investment
Monday 24 October 2022, 10h-18h CET, OECD Headquarters, Paris
---
The World Observatory on Subnational Government Finance and Investment (SNG-WOFI) is a joint endeavour led by the OECD and UCLG. As the largest international knowledge repository on subnational government structure and finance ever produced, the SNG-WOFI provides systematised information on decentralisation processes, territorial reforms, subnational government responsibilities and fiscal rules around the world, and covers dozens of indicators on subnational expenditure, investment, revenue and debt.
Following the two previous editions in 2016 and in 2019, the third edition of the SNG-WOFI was launched on 24 October 2022, during an international conference at the OECD headquarters in Paris. This conference gathered close to 150 participants on-site, including the SNG-WOFI supporting partners (ADB, AFD, UNCDF, CEB, DeLoG, French Ministry of European and Foreign Affairs, and GIZ), international organisations and representatives from national and subnational governments, and their associations, as well as an additional 150 participants online.
The launch conference of the third edition of the SNG-WOFI took place on 24 October 2022, bringing together over 300 participants from across the globe.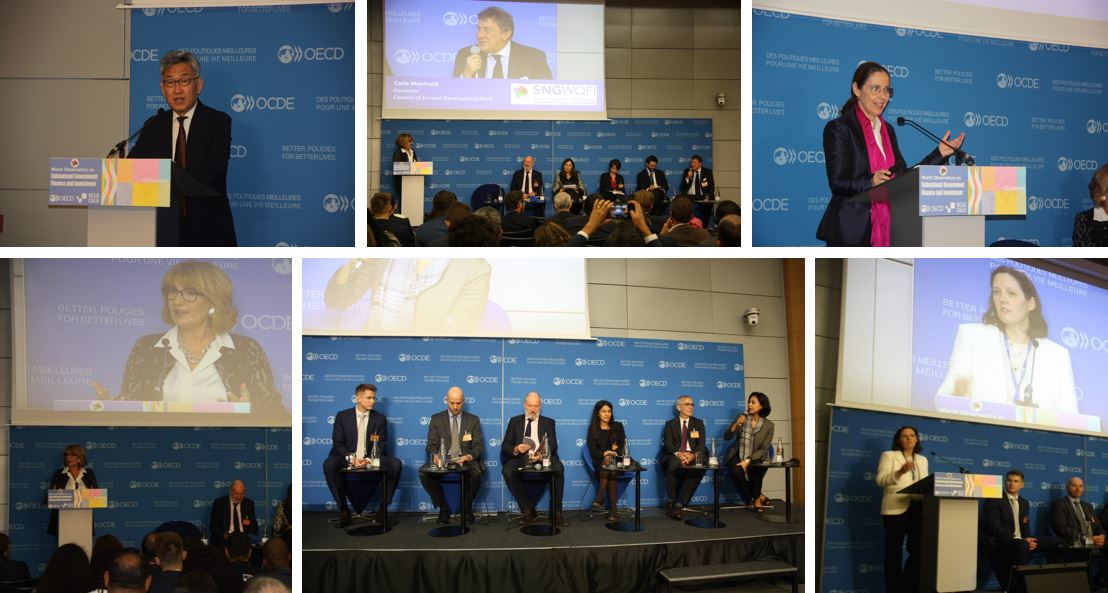 ---
OPENING SESSION - Introduction of the Third Edition of the World Observatory on Subnational Government Finance and Investment
Yoshiki Takeuchi, the OECD Deputy Secretary General, and Emilia Saiz, Secretary General of UCLG, opened the conference, recalling that as the world grapples with overlapping crises and worsening economic outbreaks, subnational governments play a critical role in overcoming those challenges. Not only are they at the frontline of the response to crises, as shown during the COVID-19 pandemic, but they also take part in addressing long-term megatrends, such as climate change and digitalisation. To play their part, however, they need fiscal space and capacities as well as frameworks to support their action, including adapted governance structures and coordination mechanisms. This is where the SNG-WOFI comes into play, providing a comprehensive picture and analysis of the strengths and weaknesses of multi-level governance systems across the globe.
Lamia Kamal-Chaoui, Director of the OECD's Centre on Entrepreneurship, SMEs, Regions and Cities, presented the main highlights from the third edition of the SNG-WOFI. The latest edition now includes unique data on multi-level governance and subnational government finance from 135 countries across the world, encompassing around 664 000 subnational governments. Data show that subnational governments are critical actors in total public spending, accounting for 21.5% of total public expenditure in 2020, or 8.3% of GDP. The COVID-19 crisis put further pressure on subnational government spending at a time when revenues from taxes and user charges and fees were falling sharply, resulting in a scissor effect. In many countries, however, support from the central government helped to reduce the impact of the crisis on subnational finance. Moreover, subnational governments also play a pivotal role in public investment, accounting for almost 40% of total public investment in the world. However, subnational investment still only accounts for 1.5% of GDP, which does falls short of the needed investment to respond to the challenges posed by climate change and the subsequent and necessary green transition, among others. Delivering the needed level of investment will require additional revenues, but also fiscal flexibility – including to take on debt to finance investment. Overall, access to external financing remains limited, as subnational debt accounts for 9.8% of total public debt in 2020. To explore this topic further, Lamia Kamal-Chaoui mentioned the recently published "G20-OECD Policy Toolkit to Mobilise Funding and Financing for Inclusive and Quality Infrastructure Investment in Regions and Cities", which was formally endorsed by G20 Finance Ministers and Central Bank Governors in mid-October 2022.
This presentation was followed by a high-level discussion chaired by Emilia Saiz, which focused on how the key findings from the SNG-WOFI can contribute to rethinking local and regional governance. The panel discussion involved Carlo Monticelli, Governor of the Council of Europe Development Bank (CEB), Francisco Saffie Gatica, Ambassador and Permanent Representative to the OECD from Chile, Asmaa Rhlalou, Mayor of Rabat, Morocco, Marie-Hélène Loison, Deputy Director General at the French Development Agency (AFD), and David Jackson, Director on Local Transformative Finance at the UN Capital Development Fund (UNCDF). The speakers reaffirmed their reliance on the SNG-WOFI for benchmarking and to guide their own actions to support subnational governments and evidence-based policy-making. More precisely, panellists praised the WOFI as a tool that can support those countries that are willing to bring changes to their institutional systems and move towards more decentralisation. It was also clear to panellists that the WOFI is also useful for international partners to channel finance for development projects more efficiently. In developing countries in particular, the SNG-WOFI can support capacity-building and is an incentive for countries to publish and enhance the quality of public finance data. Finally, panellists also valued the WOFI's contribution in revealing that subnational governments remain largely underfunded in many countries.
Access the presentation from the OECD for more details and findings
Access the video in French (accéder à la vidéo en français)
---
SESSION 1 - How to improve the financial resilience of subnational governments to external shocks?
Miquel Vidal-Bover, Policy Analyst at the OECD and Master of Ceremony for the day, then passed the floor to Christel Alvergne, Team Lead for Africa at UNCDF, who chaired the first roundtable on "How to improve the financial resilience of subnational governments to external shocks?". Isabelle Chatry, Head of the Decentralisation, Subnational Finance and Infrastructure Unit at the OECD, introduced the roundtable and highlighted how multi-level governance arrangements and subnational government finance can be made more resilient to adapt to external shocks. She mentioned three main areas for action: (i) framework conditions to improve the allocation of responsibilities and to increase flexibility; (ii) specific financial measures, including a flexible fiscal responsibility framework or stabilisation mechanisms; and (iii) other measures such as risk management strategies, shared diagnosis and financial forecasts, complemented by higher investment in human resources and IT management.
During the roundtable, Bernadia Irawati Tjandradewi, Secretary-General at UCLG ASPAC, underlined the importance of better spending practices with objectives and strategies to make the most of subnational resources, in particular through institutional reforms and regulations. Thomas Rougier, Secretary-General of the Observatory on Local Finance and Public Management in France, and Ahmed Aziz Diallo, Mayor of Dori in Burkina Faso, explained the situation of subnational government finance in their respective countries, following the impact of the COVID-19 pandemic but also the inflation, energy and climate crises, as well as terrorist risks. Finally, Junghun Kim, President of the Fiscal Policy Institute, Korea and Chair of the OECD Network on Fiscal Relations across Levels of Government, and Jordi Vaquer, Secretary-General of Metropolis, detailed several ways in which governments can further improve their financial preparedness and resilience to face future crises. They raised the topics of informality, the ability to ensure "business continuity", and the capacity to foresee future shocks.
Access the video in French (accéder à la vidéo en français)
---
SESSION 2 - How to strengthen property taxes to enhance subnational government revenue?
The second roundtable, chaired by Damjan Sarvan, Advisor at Deutsche Gesellschaft für Internationale Zusammenarbeit (GIZ) GmbH, focused on "How to strengthen property taxes to enhance subnational government revenue?". The session was introduced by Margaux Vincent, Policy Analyst at the OECD, who provided an overview of global property tax practices and recent reforms, based on data from the SNG-WOFI. Whereas the property tax is widely known as a key local tax due to its low elasticity, among other things, its use varies significantly across countries and regions: while it represents more than 50% of subnational tax revenue in 19 countries, it remains a largely underexploited tax in most other countries. Some of the main challenges to improve property tax revenues in developing countries include re-assessing the tax base according to the real value of properties, developing reliable cadastre and data systems, and enhancing staff capacity.
All panellists agreed on the importance to optimise property tax revenue in strained subnational fiscal contexts. Dario Runtic, Expert from the Association of Cities of the Republic of Croatia, explained that property tax is one of the key local taxes and a major source of own revenue for many subnational governments in South-Eastern European countries. Sarah Perret, Head of the Personal and Property Taxes Unit at the OECD Centre for Tax Policy and Administration, pointed out the need to update property valuation mechanisms in most countries including OECD countries, both to increase tax revenue and fairness. Graeme Stewart Wilson, Technical Lead, Diagnostic Assessments at the Local Governance Revenue Initiative (LoGRI), illustrated this with the example of a recent diagnostic assessment of the property tax system in Zambia. The Philippines are also reforming their property tax system, as explained in detail by Niño Raymond B. Alvina, Executive Director at the Bureau of Local Government Finance of the Philippines. Finally, Huascar Eguino, Lead Fiscal Management Specialist at the Inter-American Development Bank, pointed out the importance of technical capacities and tools, such as cadastres and the institutional capacity to make the most of this tax.
Access the video in French (accéder à la vidéo en français)
"The value-added of the world Observatory lies not only in the data and in the knowledge that it brings, but also in all stakeholders involved joining forces in putting multi-level governance in practice."
---
SESSION 3 - How can subnational government access to external resources be improved to finance infrastructure investment?
The third and final round table, chaired by Serge Allou, Special Technical Advisor at UCLG, focused on the issue of "How can subnational government access to external resources be improved to finance infrastructure investment?". Courtenay Wheeler, Policy Analyst at the OECD, introduced the session with key findings from the latest SNG-WOFI report. Significant infrastructure investment is needed globally to meet the sustainable development goals, mitigate and adapt to climate change and build resilience in regions and cities. Subnational government investment reached on average 40% of public investment and about 1.5% of GDP in 2020, but it remained below 12% of total public investment and 1% of GDP in seven least developed countries, and only 0.7% of GDP on average in the African region. This means that there is scope for more subnational investment in many countries. In any case, supporting subnational infrastructure investment requires well-designed fiscal and regulatory frameworks, good institutional capacity, mechanisms for co-ordination and co-operation, deep financial markets, affordable financing and access to funding.
During the roundtable, Rachana Shresta, Public Management Specialist from the Governance Thematic Group, Sustainable Development and Climate Change Department at the Asian Development Bank (ADB), highlighted the importance of aligning investment planning with financing to help mobilise funding. One of the key pre-requisites for subnational governments to gain access to funding is maintaining sound fiscal health, which includes own-source revenue but also stable transfers, as pointed out by François Paul Yatta, Director of Programs of UCLG Africa. Other enabling factors were mentioned by Nicolas Painvin, Head of International Public Finance at Fitch ratings, such as enhancing trust and confidence between levels of government as well as between subnational governments and the financial sector. He insisted on the importance of developing fiscal and debt frameworks that are both robust and flexible enough.
In addition to multi-lateral development banks and commercial lenders, national and subnational development banks can also play an important role to finance subnational investment. Violeta Crudu, Mayor of Cruzesty Municipality in Moldova, mentioned the recent creation of a national fund for local and regional development that enables small local governments to access funding for investment in areas such as water and sanitation. Flo Clucas, Cheltenham Cabinet Member and Councillor, Finance Spokesperson of the Council of European Municipalities and Regions, highlighted the creation of several municipal and regional banks in European countries. She mentioned the case of municipal assets such as land and properties that can serve to enhance local revenue, taking the example of Cheltenham Council in the UK.
Access the video in French (accéder à la vidéo en français)
---
CLOSING SESSION - Conclusions and way forward
After the last roundtable, the SNG-WOFI partner institutions took the floor once again to highlight the uniqueness of the SNG-WOFI as a platform on subnational finance and multi-level governance, and reaffirmed their commitment to continue contributing to this initiative for future editions. Speakers included Rachana Shresta from ADB, Frédéric Audras from AFD, David Jackson from UNCDF, Elisa Muzzini from the CEB, Damjan Sarvan from GIZ and Christian Luy from DeLoG.
To conclude, Serge Allou from UCLG and Dorothée Allain-Dupré, Head of Regional Development and Multi-Level Governance Division at the OECD, thanked all the partners and participants for their support and contributions throughout the day, along with the OECD and UCLG teams and external experts involved in this considerable work, stating that "the value added of the World Observatory lies not only in the data and in the knowledge that it brings, but also in all stakeholders […] joining forces [to put] multi-level governance into practice." With the complex set of crises that governments are facing, the SNG-WOFI aims to support the multilateral agenda in its way forward. Reminding the audience that the more we advance, the more ambitious this initiative becomes, a call was made for new partners to join and contribute to maintain and grow the SNG-WOFI as a sustainable and public good for all.
Access the video in French (accéder à la vidéo en français)
---
More information