| | |
| --- | --- |
| | The World Observatory on Subnational Government Finance and Investment (SNG-WOFI) was launched in November 2017, as a joint endeavour of the Organisation for Economic Co-operation and Development (OECD) and United Cities and Local Government (UCLG). |
Rationale
At the global level, subnational governments are key economic and social players. They represent around one quarter of overall public spending and 37% of total public investment worldwide.

There is a growing demand worldwide from national and subnational governments, academics, development banks, donors, and NGOs, for relevant, reliable, objective and comparative information and data presented in a systematic way on different topics regarding multi-level governance and finance. Previously, it was not easy to find these data in standardised/comparative forms.

The SNG-WOFI initiative helps bridge this gap. By collecting and analysing standardised indicators and information, it aims to raise the level of knowledge on multi-level governance and finance nurture and strengthen the dialogue across all levels of government, at the international, national and subnational levels.
Objectives
The objectives of the SNG-WOFI initiative are three-fold:

Ensure standardised, reliable and transparent access to data on subnational government structure, finance and investment.
Support international dialogue and decision-making on multi-level governance and subnational finance.
Serve as a capacity-building tool on subnational governance and finance.
Partners
Lead partners
Organisation for Economic Co-operation and Development (OECD)

OECD analyses and compares data to predict future trends, as well as sets international standards on a wide range of topics. Within the OECD, the Centre for Entrepreneurship, SMEs, Regions and Cities helps local and national governments unleash the potential of entrepreneurs and small and medium-sized enterprises, promote inclusive and sustainable regions and cities, boost local job creation and implement sound tourism policies.

‌

United Cities and Local Government (UCLG)

UCLG represents and defends the interests of local governments on the world stage, with the mission to be the united voice and world advocate of democratic local self-government, promoting its values, objectives and interests, through cooperation between local governments, and within the wider international community.
Supporting partners
Steering Committee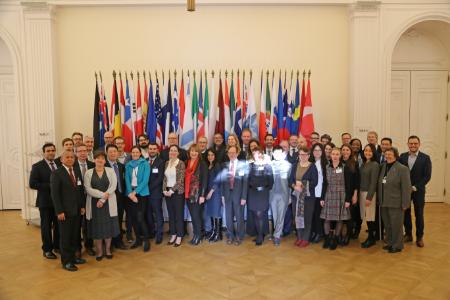 The SNG-WOFI Steering Committee meets on a regular basis to provide feedback on the work of SNG-WOFI and guidance on future directions.
It consists of the following:
Representatives of national governments: Belgium, Chile, Denmark, Estonia, France, Italy, Netherlands, Poland, Slovak Republic, Korea;
Representatives of associations of subnational governments: Network of Associations of Local Authorities of South East Europe (NALAS), United Cities and Local Governments-Africa,

United Cities and Local Governments-

Asia Pacific, Council of European Municipalities and Regions, National Confederation of Municipalities of Brazil, Commonwealth Local Government Forum, Forum of Regions, Mercociudades, Metropolis, Association internationale des maires francophones;
EU institutions: European Commission, EU Committee of the Regions;
International Organisations and institutions: Council of Europe, United Nations Capital Development Fund (UNCDF);
Multilateral and national development banks: Agence Française de Développement (AFD), Council of Europe Development Bank (CEB), Asian Development Bank
Foundations, institutes, and other networks: Decentralisation and Local Governance (DeLoG) Network, Lincoln Institute of Land Policy.
Read more on the Steering Committee meetings...